What People are Saying:
Last October I experienced the pain of passing a kidney stone. At the conclusion of the ordeal, the doctor stated the problem would probably recur. I received no other advice.

With the memory of the ordeal fresh in mind, I began a search of the internet for more information on the condition, and a way of preventing the problem that I was assured would return. I found your website and the recipe: "Kidney/Gallbladder Cleanse."

Thank you. I had five days off work; purchased the necessary ingredients and embarked on what has been the best and cheapest course of health therapy I have encountered.

S.L., United Kingdom
Other Products
Winemaking Pure and Simple
Anyone can make wine. It is not particularly complicated or time consuming. This is a natural process that, until recently, was part of everyday life.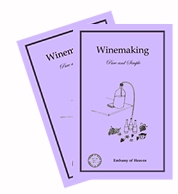 If you live beyond the sidewalks, and enjoy preserving fruits and vegetables, winemaking is one more way to store the harvest. And even if you don't have a garden, there is always fruit available that's just going to waste. Here's your opportunity to preserve this surplus.
This book is designed to take the fear and mystique out of winemaking.
Chapters Include:
Winemaking Basics and Supplies
Recipes for Fruit and Berry Wines
Creating Your Own Recipes
Homemade Wine Vinegar
Making Herbal Vinegars
Medicinal Wines
Wine in the New Testament
---
---